90%
Daniel Caudill – Merch By Amazon Advanced Strategies
Product Delivery – You will receive Content Access Via Email.
Email – [email protected]
Description
Daniel Caudill – Merch By Amazon Advanced Strategies
Price : $597
Sale Page : homebasedbusinessowner.usefedora.com/p/merch-by-amazon-advanced-strategies
Discover the insider secrets of a six-figure Merch By Amazon seller! | taught by Daniel Caudill & Dave Espino
NOTE: When implemented, the contents of this video training could turn your struggling Merch By Amazon business into a six-figure, passive income business!

Imagine being coached by a top Merch By Amazon seller – someone who us making as much as $5,300 a week with Merch By Amazon?
Daniel Caudill started with Merch By Amazon in November of 2015 and, using the advanced system you are about to see here, has already built a six-figure business – in just a few short months!
Take a look at the income growth from his Merch business below:

Note: This is not a promise of earnings and your earnings may be more or less than is shown in the above screen shot.
Daniel's coaching clients are consistently positive about their one-on-one coaching sessions with Daniel. (which are priced at a lot more than this course)
Do you think you might be able to dramatically accelerate your sales and success with Daniel's advanced Merch by Amazon strategies? You'd better believe it!
Want to learn the insider secrets of a Merch By Amazon superstar success story?
Want to take your Merch By Amazon business to a whole new level?
Want to accelerate your success with Merch By Amazon to make as much as six-figures, quickly and easily?
Then this is the course for you!
In this power-packed course, you will discover Daniel Caudill's secrets to success with Merch by Amazon AND you will also get one of Daniel's advanced coaching sessions, which has been recorded by Daniel, just for you!
(The advanced coaching session alone regularly sells for as much as $900+, but you get a special expanded version of his coaching right here for MUCH less!)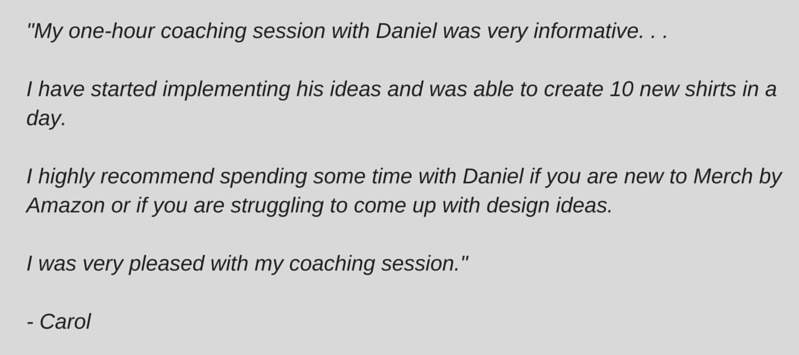 That's right, you get Daniel's best secrets, right here, for a fraction of that amount – and, in a recorded video course that you can refer to over and over again.
In the CORE CONTENT of this course, you'll discover:
Beginning with the correct mindset / strategy for quickly accelerating sales
How to run trademark searches before you design, to keep your Merch account protected
How to use the best keywords in your Merch by Amazon titles and descriptions
Daniel's top 4 strategies for creating winning t-shirt design ideas that will sell like hotcakes
How to avoid competing with other Merch sellers (and the massive benefits you enjoy when you do this)
A walkthrough of Daniel's special outsourcer spreadsheet – how to keep your designs (and designers) organized. (Special outsourcing spreadsheet is ALSO included in this course)
How to use the best bullet points and descriptions in your Merch By Amazon listings to get the most sales
How to create shirt design ideas (outside of Merch) that have little or no competition from other Merch sellers
How to compensate family and friends who give you profitable t-shirt design ideas. (special Spreadsheet included)
Daniel teaches you the elements of "The Perfect T-Shirt Design" for making the most profits from Merch by Amazon
How to create your own t-shirt lines so that you can quickly ramp up sales
What is the "sweet spot" to compete in when it comes to Amazon product rankings?
FOUR powerful ways to boost your average weekly sales ratio
And plenty of additional Merch by Amazon tips and tricks along the way!
These are the strategies that have launched Daniel's business into the six-figure range and that have Daniel on track to earn over $20,000 monthly from Merch by Amazon!